Dynamics and more Blog
Winning more D365 BC deals by using better buying arguments!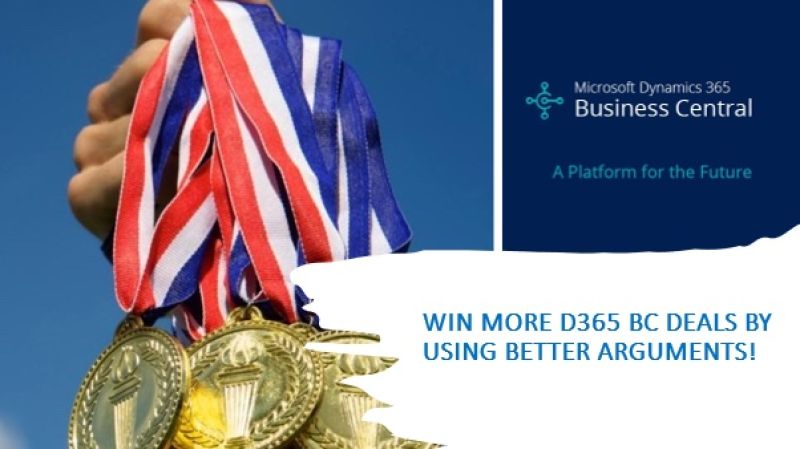 As a professional in the software business you know that you can win and lose deals. Unfortunately, many Dynamics 365 partners oftentimes lose BC deals unnecessary. And that hurts!
My top-3 observations
After training thousands of Dynamics 365 sales and marketing professionals around the world over the past 20 years, I have personally acquired these 3 important insights:
There is a significant mis-match between your sales arguments and the buying reasons that are relevant to the C-suite of your prospects
Many sales professionals use the same set of sales arguments time and time again. Regardless of the competition and the prospect's priorities
Sales often struggles to translate the strong Microsoft statistics into relevant arguments for the buyer
10 Reasons why organisations select D365 BC
To help partners like you overcome these difficulties and win more deals, I wrote a document with 11 strong and business-relevant reasons why companies should select BC as their new ERP solution.
The document is written with decision makers in mind. So no stories about cool functions & features. And no complex acronyms. But a translation into customer benefits, based on building trust and limiting risks.
The document describes 11 buying reasons that are unique for D365 BC. Either as individual arguments. Or in combination with the others arguments. The rich BC functionality is only one of these reasons. 😊
The document includes strong but often unused BC statistics that are all checked with Mike Morton's team. And every single argument is explained in a language that the C-suite can understand. Clear and distinct.
The document contains over 1.300 words.
Why 11 reasons for a top-10?
I described 11 arguments instead of the obvious 10 with a reason. Sales professionals must always avoid a
one size fits all
approach. Since that often fits nobody!
This set of 11 gives you the opportunity to select the 10 arguments that are most relevant to that one specific prospect. Or against that one specific competitor. And then present the chosen 10 in the correct order.
As an example:
footprint
is not crucial if you compete directly with SAP. But flexibility does! When competing with a local vendor, that might be exactly the opposite.
How to best use this content?
You can use these solid arguments in your proposals, on your website and as sales assets during the sales cycle.
It's also interesting to turn this set of buying arguments into a valuable selection checklist that you offer to your prospects as 'early buying cycle content'.
Languages
The document is available in 3 languages today, being English, German and Dutch.
Want to better understand the argumentation?
I will create a 30 to 45 minutes, English spoken instruction video shortly to introduce this document to your team, to explain every single argument and to inspire you on how to best use them.
Your investment
Your investment in this valuable document in one language is only € 950,00. And company-wide access to the video recording will cost you € 350,00. So that makes a total of € 1.300,00 for the combination.
Current subscribers to my Content Service only pay € 1.000,00.
VAT
All prices are exclusive of VAT.
How to order?
You can order this document and the access to the instruction video by confirming that you accept the conditions. Please select your favorite language and send me your full invoice address, your VAT number and your PO number (if applicable).
Questions?
Just let me know if you have any questions or remarks.
Don't wait any longer and start winning more BC deals today!
---
Author
Published
Feel free to share