Dynamics and more Blog
What's the most effective way to prevent your scarce development capacity being used to customize outdated business processes?
With the current move from on-premise solutions to the cloud, the question comes up how to best use your development capacity to make your current and future customers happy. And to grow your business effectively.
"Our development capacity is limited, as with every Dynamics 365 partner. And we have so many urgent projects on our To Do lists to modernize and further expand our IP. Nevertheless we continue to sell and accept large projects where we commit ourselves to use that capacity to customize outdated, legacy business processes. It simply doesn't make sense to me!"
This is what the product director of a large Microsoft Dynamics 365 partner recently told me. The need to satisfy the wishes of one or two large customers slows down the modernization of the standard solution that potentially benefits many dozens of their customers.
To me this seems to be a serious dilemma for many Dynamics 365 partners these days! Obviously, there is tension between the short-term benefits (winning this one large prospect, a happy sales colleague, direct revenue) and the long-term company interests (growth, a long-term happy customer and lower churn).
Question of course is what the most effective way is to deal with this dilemma.
I've asked my LinkedIn network about their opinions. Should D365 partners simply raise the prices for customizations? Stop paying bonus on customizations to their sales teams? Or inspire the customers to modernize their business processes and stay closer to the standard version?
The poll attracted over 7.000 views. A clear majority of the 57 voters responded approvingly, saying 'teach customers to modernize their business processes!'
These are the detailed results of that poll, that was open for 14 days: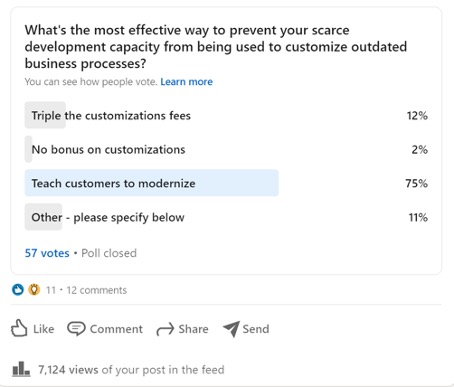 So how much progress have you already made in making
prospect education
part of your sales methodology?
---
Author
Published
Feel free to share