Dynamics and more Blog
SAP says goodbye to her ERP cloud solution Business Bydesign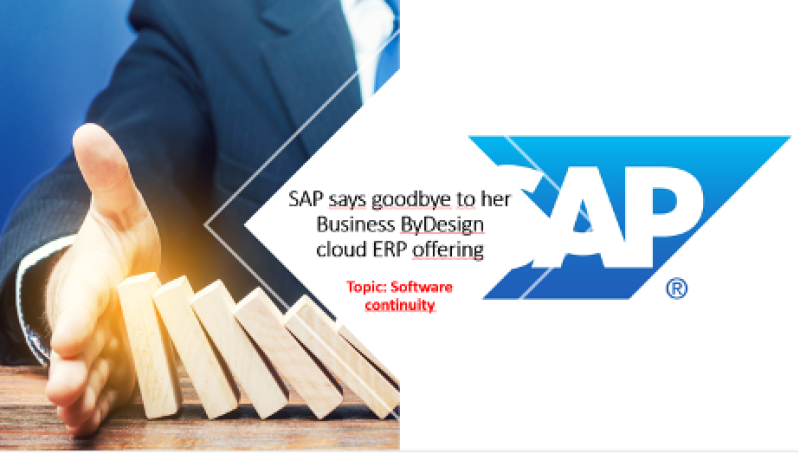 Introducing ERP software in an organisation is a risky activity. Since implementations can fail. And operations can be disrupted after the GoLive.
Last month, German ERP vendor @SAP quietly introduced an entirely different form of risk. The ERP giant decided to take a continuous street with her cloud ERP solution @SAP Business ByDesign (BYD). Leaving roughly 10.000 customers in over 140 countries in big trouble.

BYD was introduced in 2007 as SAP's first 'native' cloud based ERP solution. Meant to address the needs of SMB organisations up to 1.500 employees. At the launch, board member @Henning Kagermann promised that companies could use this solution to reduce their ERP operating costs by up to 90 (!) percent. However, the product came onto the market 2 years later than planned. And market acceptance was much lower than expected. Both partners and customers were confused by the positioning, since this new solution overlapped with other SMB offerings like @SAP BusinessOne. Since the ambitious sales targets were not achieved, product development has already been on the back burner since 2013. Now the curtain is definitely falling: SAP takes its hands off the product completely. All BYD developers will continue working on SAP's HANA platform.

Indian service partner @HCL will now be responsible for the delivery of the most minimal form of support: security patches and legal updates. The bare minimum. But in a world that is on fire, this 'offering' really equals a technological standstill. After all, which organisation can ignore new developments and innovation? So these customers are forced now to select and implement new software. Immediately! At least, if they can afford it at all. And is there is enough capacity available to support them. And what do you think – will they be confident enough to do business with SAP again?

On a commercial level: what does it mean for SAP's Cloud First strategy that they are discontinuing their only native cloud ERP solution? And what does this say about their long cherished desire to be a player in the SMB market?

On the ethical side: can SAP walk away from its responsibilities so easily? The company reported EURO 27,8 billion in revenue last fiscal year with an operating profit of EURO 4,6 billion. So there doesn't seem to be much of a financial need to make this decision, does it? Are the interests of their shareholders more important than those of these 10.000 customers? What will customers feel who have purchased in 2022 and have only been live for a few months?

And there are of course many other questions:
What about all the great promises on SAP's websites regarding ongoing innovation?
How often will SAP have used the word 'strategic' incorrectly when presenting BYD?
What is the future for all the BYD implementation partners who have spend fortunes in building knowledge and creating solutions?
What does the powerful SAP user group think of this 'strategic decision'?
Can SAP break her promises with impunity?
This case teaches all of us the crucial importance of @software continuity. After all, what good is well-fitting software that is no longer supported after a while?

Here are my learnings for everybody involved in ERP software selection:
NEVER ever trust sales and marketing professionals on their blue eyes alone
structured research of continuity expectations deserves more attention in selection processes
this is especially true if you evaluate vendors offering multiple solutions for the same market
continuity has many different aspects. In the end, the continuity of your internal information provision is all that really matters!
preferably select a vendor where customers are more important than shareholder value
you always need a bit of luck in selection processes 😊
My last question: what are the continuity prospects of (the version of) the ERP system that you are currently using?
---
Author
Published
Feel free to share