Dynamics and more Blog
What will Microsoft say about the BC success at DIRECTIONS for Partners in Lyon?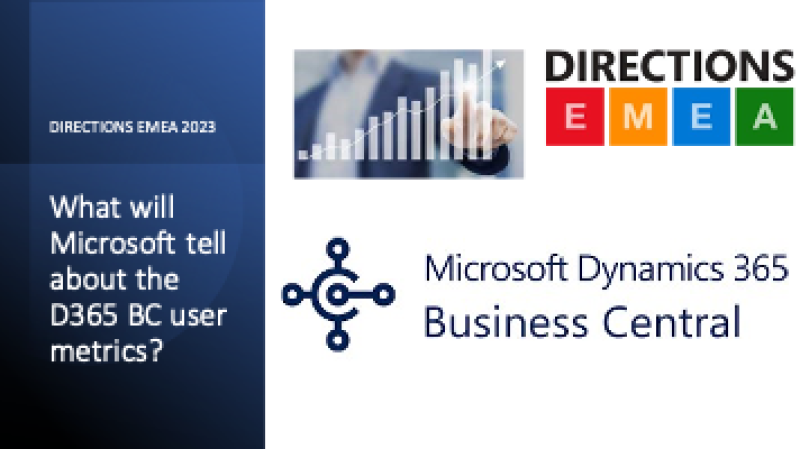 The strongest indicators of the success of an ERP system are the number of users and the annual growth. If positive, these figures form extremely strong purchasing arguments that no other arguments can compete with!
Dynamics365 Business Central has been experiencing impressive growth in recent years. However, the Microsoft HQ Finance people (why not the marketing department?!) decided early 2022 to no longer publish these numbers. Mainly for internal reasons other than stimulating further growth.
Unfortunately, most of these HQ people never met a potential ERP buyer or had to fill in a RFI. ☹
Read my previous post about the importance of transparency: https://tinyurl.com/y7dnf8s8
And how partners estimate the value of user metrics: https://tinyurl.com/yj4vhpdr
On Wednesday morning November 1st, Microsoft's SMB boss Mike Morton will talk in his DIRECTIONS for Partners keynote presentation in Lyon about the ongoing success of D365 BC. What complex formula is he going to say this time to conceal the true numbers?
In the last 2 weeks he said this at two major events:
Community Summit North America: 75%+ year over year growth
the Microsoft BizApps Launch event: 30.000+ customers 
What is the message behind the '+' sign in these statements?
Some 6 months ago, the partner channel estimated that number to be already more than 40.000: https://lnkd.in/evrdivbK
Again: why not just publish the actual numbers? Are the churn rates higher than expected? Does Microsoft has something to hide?
So what are your thoughts about the importance of publishing user metrics?
---
Author
Published
Feel free to share